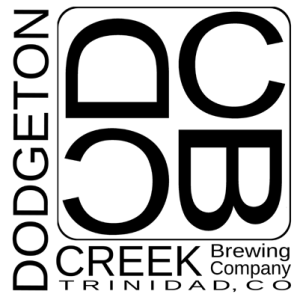 Description
Dodgeton Creek Brewing Co. is an independent traditional mircobrewery located in Trinidad, CO. Eight ales are typically available in the taproom. Lagers will be added to the regular lineup as fermentation space is expanded.
Dodgeton Creek's initial offerings are available to the public through direct retail sales at the brewery's taproom in Trinidad. Additionally, Dodgeton Creek Brewing Company's kegged, draft products will be available to bars, taverns and restaurants in Las Animas and Huerfano counties through wholesale sales. Expansion plans include addition of a canning line in the third year of operation, which will allow for distribution throughout Colorado and into New Mexico.
Beers Brewed by Dodgeton Creek Brewing Company
This list includes beers brewed currently, previously, or seasonally by Dodgeton Creek Brewing Company. Contact the brewery for current beer availability.
Name
Style
ABV
Availability
Just. Stout.
American Stout
7.3
Rotating
Troy's ESB
Extra Special / Strong Bitter (ESB)
6.8
Rotating
Bear Lake IPA
American IPA
6.5
Rotating
Dodgeton Creek: Cream Ale
Cream Ale
4.4
Rotating
Peated English Mild
English Mild
4.8
Rotating
Dodgeton Creek: Munich Lager
Munich Helles
5.2
Rotating
Red's Dirty Lil' Ale
American Amber Ale / Red Ale
6.3
Rotating
Huajatolla Milk Stout
Milk Stout
6.5
Rotating
Just. Porter.
American Porter
6.0
Rotating
Dodgeton Creek: Pumpkin Stout
Pumpkin Beer
8.3
Seasonal
Dodgeton Creek: Coffee Porter
Coffee Porter
6.7
Seasonal
Dodgeton Creek: Wee Heavy Scottish Ale
Scotch Ale / Wee Heavy
7.1
Seasonal
Long Pond IPA
American IPA
6.8
Year-Round
Blue Lake Pale Ale
American Pale Ale
6.1
Year-Round
Miner Extra Pale Ale
American Pale Ale
5.8
Year-Round