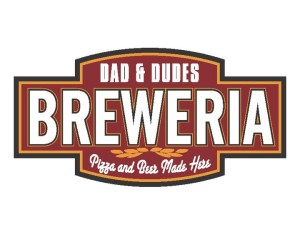 Description
Colorado's SMALLEST Brewery & Pizzeria. Owned by Aurora's own Tom & Mason Hembree (Dad & Dude). We believe pizza and beer belong together; So, we have incorporated the spent grains from our brewery into every bread product (especially the pizza).
Located on the southwest corner of Parker & Arapahoe roads.
Beers Brewed by Dad & Dude's Breweria
This list includes beers brewed currently, previously, or seasonally by Dad & Dude's Breweria. Contact the brewery for current beer availability.
| Name | Style | ABV | Availability |
| --- | --- | --- | --- |
| Oaked Dank | American IPA, Wood / Barrel Aged Beer | 6.5 | Special Release |
| Model Citizen | Golden or Blonde Ale, Nitro | 5.0 | Rotating |
| Something Light | Cream Ale | 4.5 | Rotating |
| Diggity Dank | American Double / Imperial IPA | 9.0 | Rotating |
| Hoparazzi | Black IPA / American Black Ale | 6.2 | Rotating |
| Sorry Dude | American Stout | | Rotating |
| Oaked Green Street | English Mild, Wood / Barrel Aged Beer | 4.7 | Special Release |
| Toffee Porter | American Porter | 4.5 | Rotating |
| Ryeot | Rye Beer | 5.0 | Rotating |
| Nitro Bard's Yard | American Pale Ale, Nitro | 6.0 | Rotating |
| Liquid Resume | American Pale Ale | 4.0 | Year-Round |
| Leaves Of Lemongrass | Witbier | 4.5 | Year-Round |
| Dirty Chai Milk Stout | Milk Stout | 4.2 | Rotating |
| Dank IPA | American IPA | 6.5 | Year-Round |
| Chocolate Gourd-Geous Pumpkin Porter | Pumpkin Beer | 6.2 | Seasonal |
| Bard's Yard Wet Hop Ale | Wet Hop Beer | 6.0 | Seasonal |