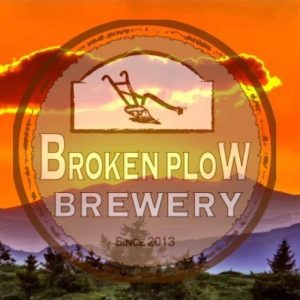 Brewery Details
4731 W 10th St. Unit G
Greeley, CO 80634
970-301-4575
brokenplowbrewery.com/
Hours:
Mon-Thurs: 2:00pm-9:00pm :: Fri-Sat: 2:00pm-11:00pm :: Sun: 2:00pm-8:00pm
Visitors:
Visitors Welcome
Tours:
By Appointment
,
On Request
Food:
BBQ
,
Pizzeria
,
Sandwiches
,
Snacks
Other drinks:
Gluten Free/Gluten Reduced Beer
,
Non-alcoholic
Beer to go:
Bombers
,
Growlers
,
Kegs
Merchandise:
Beanies
,
Coasters
,
Gift Cards
,
Glassware
,
Hoodies
,
Shirts
,
Stickers
Parking:
Parking Lot
Dog Friendly?
Patio Only
Outdoor seating/Patio:
Yes
Opening Date:
December 31, 2013
Description
We are located in West Greeley. We specialize in traditional styles of craft beer plus some surprises sprinkled in. All of our beers are Gluten Reduced! We host live music 4 nights a week, plus Geeks Who Drink Trivia. We have a beautiful patio beer garden. Our on-site restaurant, Elements Artisanal Oven at the Plow, offers Woodfired pizzas, appetizers, salads, sandwiches and more.
Open Mic Night every Thursday. Cribbage and open guitar pick on Tuesday. Trivia on Wednesday. Live pro musicians on Fridays and Saturdays. Gluten Reduced beers always.
Beers Brewed by Broken Plow Brewery
This list includes beers brewed currently, previously, or seasonally by Broken Plow Brewery. Contact the brewery for current beer availability.
| Name | Style | ABV | Availability |
| --- | --- | --- | --- |
| India Spring Honey Cream Ale | Spice / Herb / Vegetable Beer | | Rotating |
| Stone Free Apricot Wheat | Fruit Beer | 5.1 | Year-Round |
| West 10th Imperial IPA | American Double / Imperial IPA | | Rotating |
| Razzlemedazzleberry Wheat | Fruit Beer | | Rotating |
| Drunken Raven | American Double / Imperial IPA | 9.2 | Year-Round |
| Randy's Pale Ale | American Pale Ale | 5.1 | Year-Round |
| Dust Devil IPA | American IPA | 6.6 | Year-Round |
| Two Rivers Smoked Porter | Smoked Beer | | Rotating |
| Prairie Pale Ale | American Pale Ale | 5.4 | Year-Round |
| Signature Chili Wheat | Chili Beer | 5.6 | Year-Round |
| Tattyboggler | Scottish / Irish Ale | 6.2 | Year-Round |
| Deja Moo | Milk Stout | 4.1 | Year-Round |
| Desert Brown | American Brown Ale | 5.5 | Year-Round |