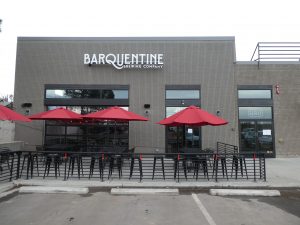 Note: This article was written shortly after Barquentine opened in late February, (pre Covid-19).
Good Day and Good Beer Everyone! In today's spotlight we are exploring one of Colorado's newest breweries, Barquentine Brewing Company.
I was lucky enough to have been one of the very first customers at Barquentine on their opening day which happened to be on Leap Day. Barquentine is settled at the west end of the Edgewater Public Market, a modern new mall scene in the exploding Edgewater neighborhood.
Pronounced "Bar-ken-teen," (read on for the definition of this maritime term) the brewery itself has a fresh, bright, industrial feeling and a subtle nautical theme. The concrete floors give way to wooden pillars that connect to a beautiful pergola and long metal tables. The space itself plays well with the ratio of space to seating, utilizing the long tables and lounge areas. My favorite feature was the large round table beneath the deconstructed barrel light fixture in the middle of the seating area. It looks like anything from business meetings to birthdays could happen there.
The room leads naturally to the bar, where red tap handles spell out the name of the brewery. Beers are listed above the bar and though there were only six on tap the day I visited, I was assured there would be more soon. With the capacity for 15 brews behind the bar, I don't doubt that to be true. Barquentine will be focusing on Belgian style beers and on opening day they had two saisons available: the Sea Bear and the Et Deux. They were both exactly what I love about the saison style: fruity, spicy, with marked farmhouse character. The Sea Bear was my personal favorite.
I went with a few other folks from CBL and they enjoyed Mined, Bottled & Sold, which was a Gold Ale, Leapling, a Kviek Pale Ale, and Footie Pajammies, the Brune. It was such a unique menu and it makes me excited to see what will come next.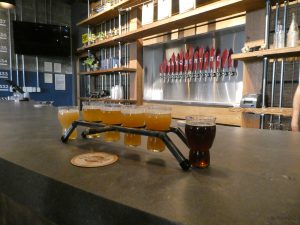 The brewery also features a barrel room lined with shiny kegs, showcasing one more long, impressive table. This room is encompassed by glass doors to make a very slick looking event space.
If you need a bite to eat with your beer, just ask for a to-go cup and walk down the hall to one of the most impressive Food Halls in the state. Barquentine's social media even has recommendations for pairing your beer if you don't know where to start.
The fun aspects for me about Barquentine were the small details. Everything from the logo and name of the brewery imprinted on the backs of the barstools, to lighting fixtures that have telltale signs of previous lives, to the living wall behind the bar, you could tell every detail was crafted with care. I was enjoying my visit not only for the beer, but for the sheer Easter egg hunt of finding new nice touches.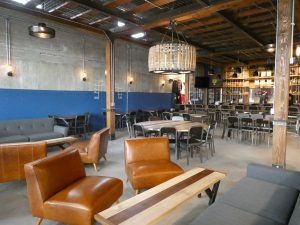 I found out about the brewery's namesake when I inquired about the March-Madness-esque bracket design which was featured on the wall and glassware. Barquentine shipping vessels used to ship Belgian beers and other cargo between continents in the 18th century. The symbol is a plimsoll, which is painted on the outside of modern shipping vessels to help captains and load masters figure out how much cargo they can take on while remaining buoyant. Little did I know how much history I would be learning with a beer in hand that Saturday morning.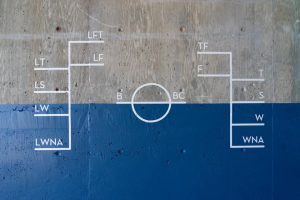 Visiting Barquentine was an amazing experience and this brewery has a lot of potential. They are in a neighborhood that is set to grow quickly and already has some impressive neighbors. When I spoke with the owners and some of the beertenders I found the goals were to grow with Edgewater and I think that is an ambitious but achievable goal.
The only question left isn't if I'll go again, but when. Barquentine has a unique style, is positioned strategically to grow quickly and successfully, and they are going to throw one heck of a Leap Year party. All I can recommend is that you visit this one early and often because I think we can expect big things from Barquentine.