The Arkansas River Valley is a magical spot in the heart of the Rockies.  The area is home to Arkansas Headwaters Recreation Area for rafting, biking, kayaking, hiking, fishing, and camping; Monarch Ski Area for skiing and snowboarding some natural snow; and now, Hubbub Brewing.  Salida is the antithesis of the mountain towns depicted in films and on television. It is a classic, unpretentious town nestled in the Arkansas River Valley populated with a mix of outdoor enthusiasts chasing their favorite adrenaline high, artists, and ranchers. With a charming downtown full of local businesses and local character, it has a slew of activities and attractions to offer residents and visitors alike. This has been a year of changes for one long-standing Salida business, Amicas Pizza and Brewery, who has dropped the "brewery" side of things and moved to a larger location around the corner from their original storefront. But Amicas devotees (count me amongst them – vegetarian lasagna sans sauce is just pure heaven) shouldn't worry, as Amicas beers are still on tap and being brewed by 14-year head brewer Mike LaCroix, if just a little farther away from the pizza oven than before. Mike, now head brewer and part owner at Hubbub Brewing, has 24 years of experience as a professional brewer working at different breweries across the US. Hubbub and Amicas have maintained a very close relationship as, in addition to Hubbub brewing all of Amicas' beers, Amicas has set up a food truck, the Munch Box, in Hubbub's parking lot. I met Mike years ago while watching him try to squeeze around and behind some very tightly-packed fermenters at Amicas and, through visits to Salida for The Colorado Brewers Guild Brewers Rendezvous as well as ski and rockhounding trips to the area, we have grown to be friends. His stories of brewing at a variety of breweries – 11 in total – and his mellow, welcoming personality truly shines through at Hubbub, both in the atmosphere and in the beer.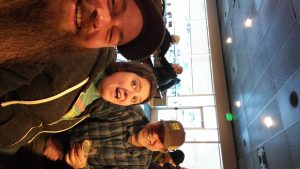 Hubbub is located off The Rainbow Highway (US Highway 50) and is hard to miss with a giant "BREWERY" sign along the road and their bright green sign contrasting with their large, black building. It is conveniently located in the midst of the majority of the hotels in town and just a short drive (or 20 minute walk) from downtown Salida.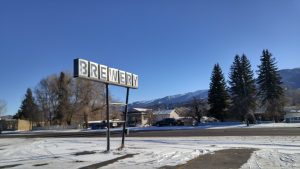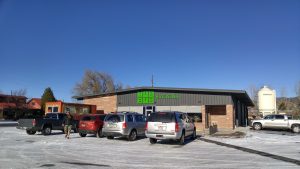 In contrast to Amicas' small brewpub set up, Hubbub has a respectable 15 BBL system with room to add more fermenters and brite tanks as needed. Instead of focusing on one brewing region or group of styles, Hubbub is taking a cue from the environment around them and offering their patrons a wide variety of flavors to explore. Their beers range from pale ales and IPAs to a coconut milk stout and two chili beers. One the day we visited, we enjoyed a flight of all ten beers they had on tap, with the Moon-Itcher Helles, Fresco y Seco, X-Ray IPA, and their flagship Type 2 Pale Ale all standing out. I even enjoyed the Coconut Milk Stout, not a style I usually like as they tend to smell (and sometimes taste) like sunscreen. Needless to say, Hubbub's was not in that camp.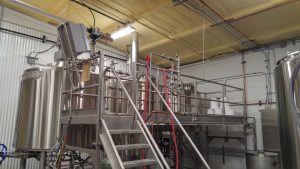 There's a fine balance breweries must walk in designing a mountain-town taproom.On the one end they can feel a little too "on-the-nose" log-cabinesque; on the other end, there is big-city sterile minimalism full of white tile and white counters and uncomfortable white chairs. While I'm a huge fan of log cabins with patched carpet, plaid sofas, and that distinct Cabin Funk™, it's not necessarily to everyone's taste. And the hospital-level sterility doesn't exactly encourage relaxation après outdoor activities. Hubbub strikes a good balance. An attractive, long wood bar complements the decidedly modern wood-and-steel chairs. A bright orange wall behind the bar makes the large space feel much cozier without the need to have beetle-kill pine dripping from every corner. Hubbub's tasting room invites you to stay a while, but not in the "I think the couch is eating me" kind of way.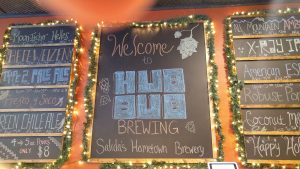 Besides the décor, the tasting room is large and bright, thanks to large windows lining the south side of the building. This also provides excellent passive solar heating, which allows for a warm escape from the freezing winter winds. The large bar provides plenty of seating for those who want to make new friends and ample table space allows for you to gather with old friends comfortably. In the summer (or winter, if you're bold) you can enjoy their outdoor patio which is pup-friendly.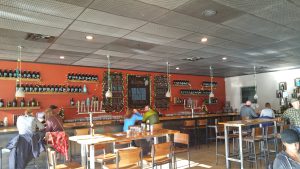 While we were sitting at the bar chatting with Mike, an older gentleman in a cowboy hat sauntered in to pick up a couple of growlers for watching the Broncos game (which I'm glad we missed due to the lack of TVs – it sounded like a travesty). Having lived in Salida for some time, Mike seems to know everyone who crosses the threshold and this customer was no different. When he asked Mike for beer suggestions, he added that he needed something that women would like.  Mike, smiling, responded that he doesn't know how to put beers in categories like "for men" or "for women", but if the gentleman knew what the ladies usually drank, he could make suggestions.  I enjoyed that response immensely as I sipped my X-Ray IPA.  Tasters were poured, laughs exchanged, and the man left with two growlers: an IPA and a pale ale. I have no doubt he, and his lady friends, enjoyed them more than they did the game.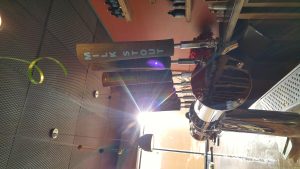 After so many breweries behind him, and so many years at a well-established brewpub, I was curious about why Mike had decided to take the risk and strike out on his own, so I asked Mike what was different about owning his own place (besides the long hours, the stress, etc). He responded that what made him the most excited about Hubbub is "the four guys who built this place." The "three guys" in addition to Mike are: Tom Price, Eric Ramsey, and Scott Boulton, who, between the four of them, have experience in brewing, marketing, ranching, restaurant management, and even bull riding.  Opening a new brewery is always a risk, but in Colorado, with its plethora of breweries, and in the middle of the mountains, some might call the venture crazy. When asked, in the face of all of the obstacles to success, why he wanted to open a brewery, Mike's response was simple: "I wanted to get behind something absurd." Hubbub has joined Elevation Brewing, Eddyline Brewing, Moonlight Pizza & Brewery, Deerhammer Distillery, Woods Distillery, and Jailhouse Craft Beer Bar in one of the best craft libations scenes in Colorado, and being that it's just 2 ½ hours from Denver, it's the perfect place to visit while avoiding the World's Most Scenic Parking Lot (I-70). Hubbub Brewing is everything a mountain brewery should be: unique, welcoming, warm, and, above all, putting out good beer for everyone to enjoy. It's a place for the locals to belly-up and share a pint after work (or before – no judgement) and a place for a traveler to find a friendly face and full pint.