Filled with laughter, live music, and a chorus of cheers and felicitation, the taproom of Green Mountain Beer Company was a stark contrast to the remnants of Colorado's first snowstorm of the year. With friends and family filling the taproom, their first official evening of dispensing delicious suds was anything but "soft" and they couldn't be happier about that.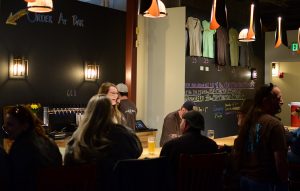 Located in Lakewood, a mere six and a half miles from Red Rocks Amphitheater, Green Mountain Beer Company can be found in the shopping center located on the corner of South Kipling and West Morrison Road. Owner and Brewer, Brian Milhaupt, expects to have six beers on tap for the brewery's official Grand Opening Weekend starting on Friday, November 25th. He also plans to have a constant rotation of six to ten beers on tap at any given time with no specific style in mind, but his preferences range from Belgians to sessionable ales with anything hoppy in between. What you can expect, though, is "quality product and quality service" says Brian who has over 16 years of professional brewing experience at one of the industry's giants.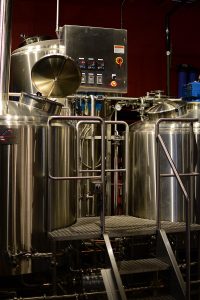 Brian also stressed the importance of their family friendly environment. "Having children of our own" he said, "my wife and I want to make sure the brewery is a place for the whole family". They plan on having a number of outdoor games and ample, dog-friendly-patio space, food trucks, local bands, and more. They also want to promote and be good neighbors to local businesses, like nearby Moe's BBQ and Thirsty Bear Bar and Grill, as well as be involved in the local community. Brian also hopes to involve local homebrewers in the future by hosting homebrewing competitions, where the winner will brew with him on his 15-barrel system. A system, Brian is proud to say, "is all American-made in Rock Port, Illinois".
With views of the mountains through their large, floor-to-ceiling windows and garage doors, Green Mountain Beer Company will be a wonderful place to relax and enjoy a cold pint year round. In addition to their scenic views, the taproom's spacious, modern-interior is furnished with tables, benches, and a bar top made from the lanes of a former bowling alley, Golden Bowl, which will provide enough seating for a hundred patrons inside with additional seating on the patio. They will be open seven days a week, 2pm – 10pm (possibly later on Friday and Saturday nights), so whether you're on your way to a show at Red Rocks, throwing a round at Fehringer Ranch Disc Golf Course, or just passing by, Green Mountain Beer Company should be your next stop.