Music-themed establishments are somewhat ubiquitous in the Colorado craft beer scene, with numerous breweries staking out territory in specific genres – metal, rock, bluegrass, ska. Head to Denver's Five Points neighborhood and you'll find another brewery with music at its core: Spangalang Brewery, located in an old DMV building in Five Points Plaza along the D-Line light rail route. In fact, Spangalang – referring to the quintessential jazz cymbal rhythm—is located just around the corner from the area's namesake, the location where four streets intersect and the downtown street grid meets the earliest neighborhood street grid. Spangalang's logo is inspired by this crisscrossing—note the clever replication of the intersection superimposed on an LP.
Spangalang isn't brand new to the craft beer scene, having opened its doors in January 2015. "There wasn't a ton happening on the strip when we signed the lease," said owner/brewer Darren Boyd. When asked if the Five Points location drove the brewery's jazz theme, Boyd responds in the affirmative. "Plus, we're all music lovers and jazz is one of the few types of music we all have in common. We were all in jazz bands at some point growing up."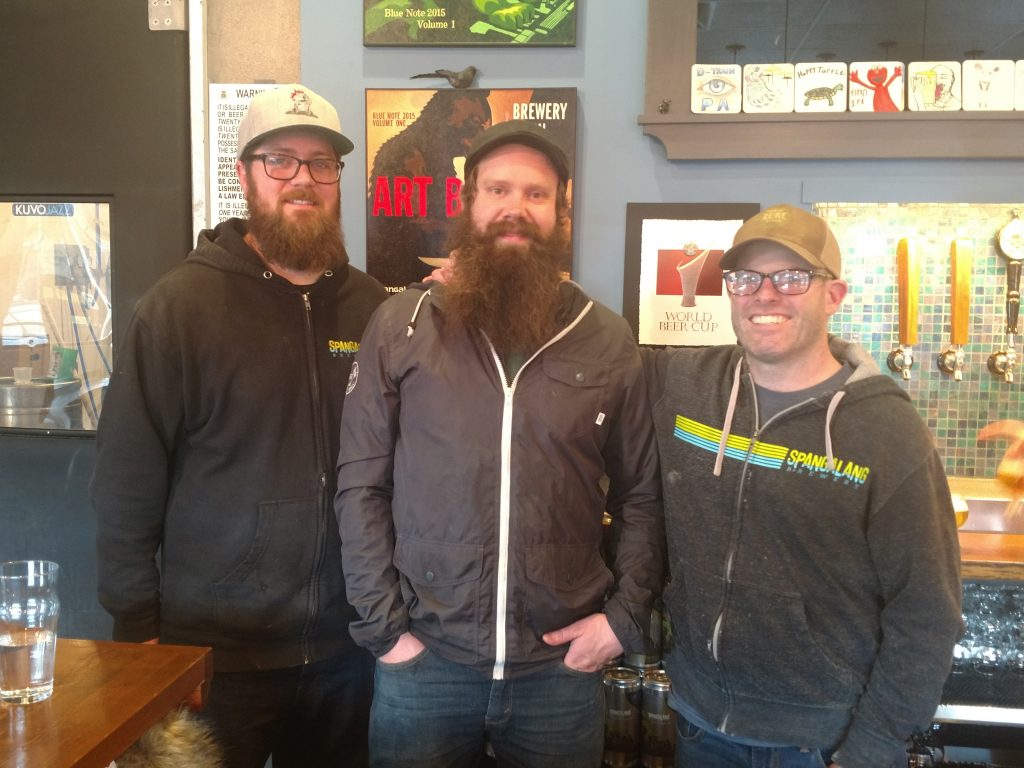 There's a deep history of jazz in Five Points, once a hub of music and entertainment in the 40s and 50s, when musicians such as Miles Davis, Billie Holiday, Nat King Cole, Dizzy Gillespie and others performed in the more than 50 clubs that lined Welton Street. "People still come in here and talk about how their parents would come to Five Points to listen to music," says Boyd.  Dubbed the "Harlem of the West," Five Points was one of the only places in Denver where visiting African American musicians could both perform and find a place to stay. Since it's heyday, the area has seen its ups and downs, but it has recently experienced a renaissance, with new housing developments and businesses popping up all along the Welton Street corridor.
Three owner /brewers comprise the core of Spangalang's operations, all of whom met while working for Great Divide Brewing Company. Boyd had been toiling away in banking in Manhattan (New York) when he made the decision to move to Colorado and pursue a job in the brewing industry. "There were only a handful of breweries in Denver then," Boyd says with a laugh. Eventually he landed at Great Divide, where he met Austin Wiley and Taylor Rees. The three became fast friends, and worked together for several years before hatching a plan to start a brewery of their own. Wiley did a stint as head brewer for Denver Beer Company as well, before Boyd approached him with the idea of launching Spangalang. Wiley believed that bringing on Rees was a necessity, given his extensive recipe development experience as well as his serious brewing chops. Soon enough Wiley left Denver Beer, Rees and Boyd vacated their respective positions at Great Divide (Rees was head brewer at the time), and Spangalang was born.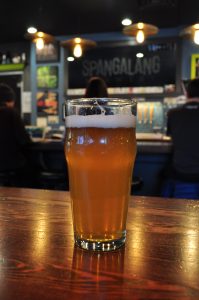 The brewery has a ten barrel system that churns out a variety of beers, most notably the Sugarfoot, a Belgian table beer that took a Gold medal at the 2015 Great American Beer Festival and Bronze at the 2016 World Beer Cup, and Nightwalker, a complex and big Imperial Stout. Other top sellers include their IPAs, with the new ElMo– 50% Mosaic and 50% El Dorado hops – garnering attention alongside their D Train IPA. "If we were to package, we'd probably start with ElMo (or a derivation of it) and Sugarfoot," said Boyd. But Boyd adds that packaging introduces a host of other issues that cannot always be controlled, and that's not a risk Spangalang is willing to take right now. 375s might be on the horizon, but currently Spangalang is hand-bottling two (12 oz) varieties of Le Voyage, a French red wine-barrel aged tripel with brettanomyces. One of the variations was produced without fruit while the other features apricots, cherries and blueberries. (I had the fruited version, pre-carb, and it was delicious.)
Spangalang has no illusions that it will be all things to all people. The brewery focuses on a variety of styles instead of building a reputation for a particular type of beer. When asked why the lack of hyperfocus, Boyd is thoughtful with a response. "We're cognizant of what the market wants but as beer drinkers and beer makers we don't want to be stuck with one style—we want to provide a more balanced line up." There are obvious trends in beer these days—think haze, think pastry stouts—but Boyd and his team aren't biting. "Beer consumers can be pretty fickle," he said. "Every style is doomed to have its peaks and valleys. We can play around chasing fads but we prefer to have a core group of styles and do them really well."
"We're pretty protective of the quality of our beer," he adds. "We used to say we would never package, but it's become more attractive from a marketing standpoint. It's not like it would be a huge money maker for us, so it would have to be something that encouraged people to come and check out the brewery."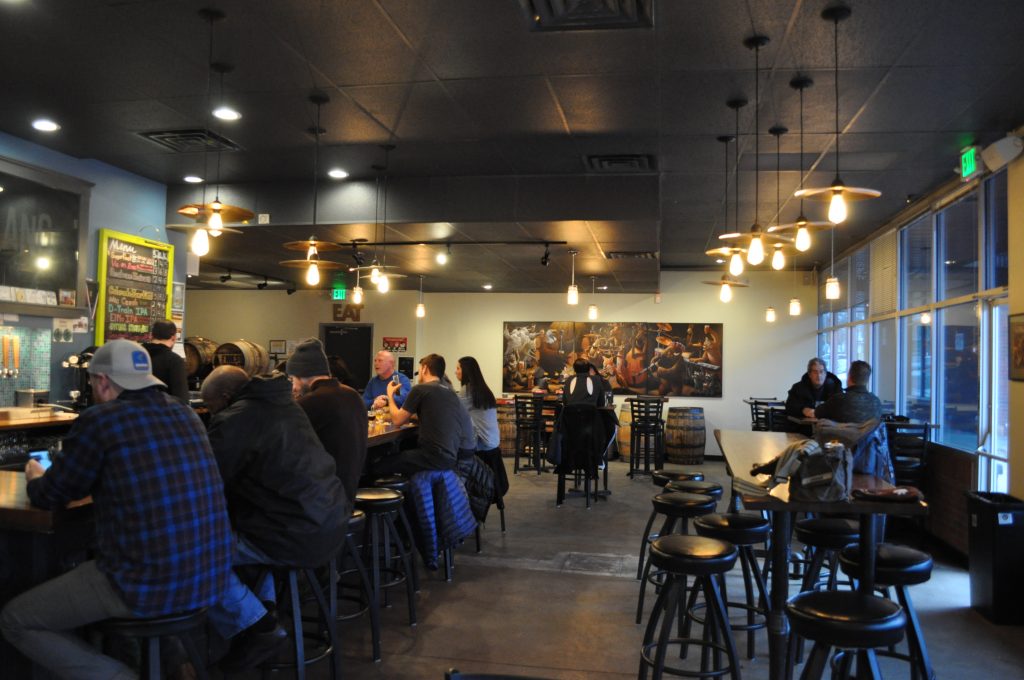 Unlike some cacophonous tap rooms, Spangalang's lends itself to conversation. Though not always playing jazz, you'll hear it quite often when visiting the brewery. In keeping with the name Spangalang, visitors can look up and see lights made from actual cymbals – quite an inventive addition – as well as classic jazz album covers that were customized for the brewery. Artist Paul Vismara created the covers as well as a stunning and whimsical mural that hangs on the east wall of the tap room. Seating is plentiful and comfortable – perfect for playing one of the many games available – and includes an outside patio (dogs welcome). Twelve taps provide plenty of quaffing options, including sours and lagers, and if you're hungry, Zivix Five Points, located right next to Spangalang (they share a door) provides a selection of snacks and plates to keep you going. Every Tuesday the brewery features live jazz at 7 pm.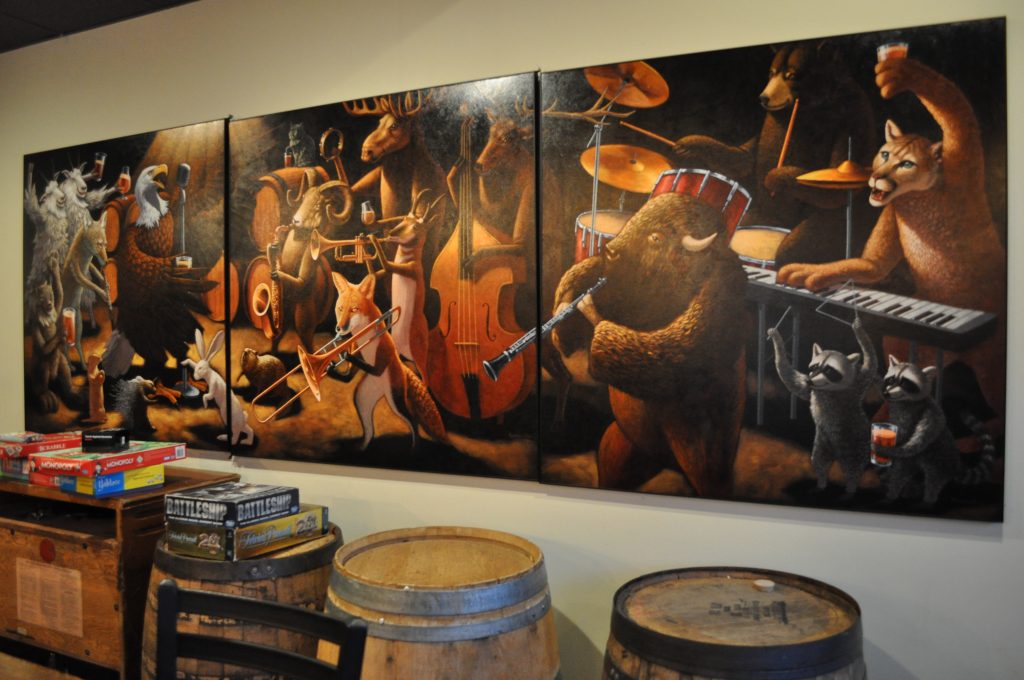 Spangalang is the quiet and stalwart horse in the Denver brewery race, keeping its head down and continuing to crank out excellent beer that stretches across many styles. What was once a dream on paper has become a reality, and judging from the accolades Spangalang has received, they're doing (many) things right. "We're first and foremost a neighborhood brewery," said Boyd. "We make the best beer that we can and hope that people enjoy it."