res·o·lute (rezəˌl(y)o͞ot) adjective: admirably purposeful, determined, and unwavering
Resolute Brewing Company | 7286 S Yosemite St, Suite 110, Centennial, CO 80112
I love balance. The subtle art of producing something with just the right amount of ingredients where none overshadows the remainder is a sign of a skilled orator, chef, and brewer. Balance in an increasingly crowded craft beer market where the next big thing is often nowhere to be found in the official guidelines can be difficult to find, so when I do, I treat it like a family heirloom. The aptly named Resolute Brewing Company brings a stoic balance to the somewhat Spartan South Suburban desert with their motto of community, craft and culture and they succeed on each count.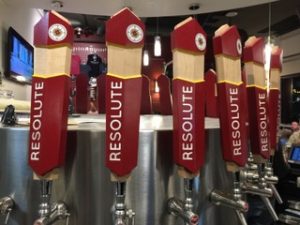 On one of those warm, sunny Colorado February afternoons that confounds visitors and ski resorts alike, we traveled to Resolute to bring some liquid balance into our lives as well as celebrate the book signing and release of the Brewtography Project photo book. More on that later. On entering, we are greeted by the always friendly staff and sense the familiar vibe and crowd – families playing a rousing game of Clue, groups of friends laughing while their inexplicably well-behaved dogs lounge at their feet, and a few discerning types with swag from other local breweries snapping pics for their Instagram and Untapped feeds.
Not being one for flights typically, I ordered full pours of their outstanding flagship Hefeweizen for what seems like the hundredth time and the Oaked Weizenbock aged with oak spirals. We sat at one of the bar-height community tables with a couple playing backgammon and some twenty-somethings happily enjoying their afternoon together. We often enjoy sitting on the traditional European beer garden tables on their small deck by the food truck, but the chilly breeze halted that idea. Anytime a brewery puts a Hefeweizen in their lineup, I get a little excitable as I drank many liters of the best Bavarian breakfast beer while stationed in Germany, so it better be good. This one is outstanding and well deserving of their gold medal at the All Colorado Beer Festival. The estery aroma of banana and clove takes me back to Munich while the lightly carbonated and solid, unfiltered flavor cement this as a perennial favorite. The Weizenbock is also delicious and balanced with a slightly smoky, peaty backdrop that does not overpower the slightly bitter maltiness. A nice traditional beer for a chilly day that, while it could have benefited from a full barrel aging, still makes for an interesting take on the style.
We are soon joined by co-founder Matt Davis who, along with college friends Grayson Heller and Clifton Oertli, fulfilled that often-heard dream and opened Resolute Brewing in August of 2016 in a location formerly occupied by a medical infusion company – it still is in a way. Matt explained that the decision to open Resolute sounds familiar but no less difficult – the three friends from Columbine High School began homebrewing in college, entered beers in a homebrew festival in Aspen, and won the People Choice Award with a vanilla java porter and honey pale ale. When asked by the patrons coming back for their third servings where their brewery was located, they responded with 'our garage'. Being a trio of accountants, engineers, and financial types, they were admittedly not the most right-brained group, but after a few brainstorming sessions, word maps and analytics, they settled on Resolute Brewing to highlight their resolve and dedication to their new craft and passion.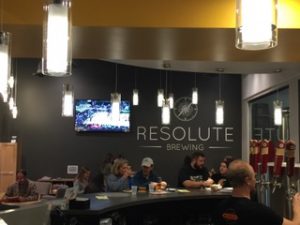 By now, our glasses had developed holes in them, so we ordered another favorite traditional style, a Wee Heavy, and modern take on the modest brown ale, their popular Vanilla Chai Brown. The Wee Heavy was on point with a slightly smoky, peaty backdrop that does not overpower the slightly bitter maltiness. The Vanilla Chai Brown avoids over-sweetness and instead hits that balance again with the chai and vanilla sharing the pint with the roasty malt and medium mouthfeel – so very sessionable.
With our barleypops replenished, Matt explained the Resolute motto of 'Community – Craft – Culture'. Resolute is committed to a philosophy of serving the city and people of Centennial and craft beer communities through collaboration and philanthropy. All spent grain is donated to Hog Haven Farm  who sometimes brings their pot-bellied friends to the brewery for a not-to-be-missed opportunity to meet their benefactors. They partner with other non-profits for dog adoption fairs, blood drives, and Charity of the Month programs, all to give back to their community.
They also collaborate and partner with other breweries through that wonderful sense of community within the craft beer industry that I love so much. Instead of debasing the group with yet another lawsuit over their similar names and some confused hashtags, they are working with Resolution Brewing out of Anchorage, Alaska to create a hoppy Saison for next month's Collaboration Fest. They also partner with and have good natured rivalries with other South Surburban breweries such as Lone Tree and Grist.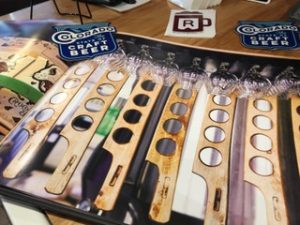 Back to the Brewtography Project. 'Brewtographer' Dustin Hall along with graphic designer Geoff Allen were visiting Resolute to promote their coffee table book filled with gorgeous shots of the people and places that make up the Colorado craft beer community. A passion project that took three years to finish, the book is meant to highlight the hard work and dedication that the self-described 'glorified janitors' who labor to create our favorite brews across Colorado. I can honestly say that the book is a wonderful homage to the people and the art of brewing and can be found at several breweries including Resolute or online at www.brewtographyproject.com.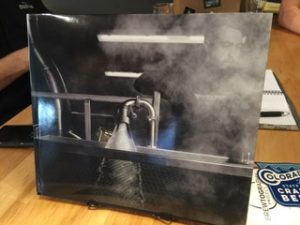 Back to the beers. For our finale, we ordered a taproom favorite Session IPA and the decidedly untraditional Chocolate Peanut Butter Marshmallow Milk Stout. The Session IPA is an expectedly drinkable pale ale with an herbal hop forward profile and, at 4% ABV, can extend your evening while not compromising the experience. The Milk Stout is about as opposite of the IPA that they have – full of roasty cocoa, burnt sugar and lactose flavor, this beer begs for some vanilla ice cream and is as smooth as silk but still maintains that balance with no one flavor overtaking the others, making for a satisfying dessert beer for the end of the day.
Resolute Brewing is less than two years old, but it already feels like they have solidified their place in the community. With a solid, balanced beer list, friendly and knowledgeable staff, and dedicated customers, they have many more years and success to come.