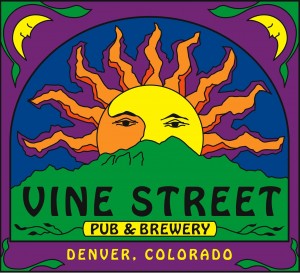 Description
In April, 2008, the Mountain Sun restaurant group took its concept to the Uptown neighborhood of Denver, opening the Vine Street Pub. The surrounding neighborhoods embraced the pub immediately, naming it Denver's best brewpub in its first year in Westword magazine. In April of 2012, the pub opened its flagship brewery with the capacity to produce 5,000 barrels annually, outnumbering the current brewing capacity of both Boulder locations combined, and reducing beer transportation miles between the pubs.
Beers Brewed by Vine Street Pub & Brewery
This list includes beers brewed currently, previously, or seasonally by Vine Street Pub & Brewery. Contact the brewery for current beer availability.
| Name | Style | ABV | Availability |
| --- | --- | --- | --- |
| FYIPA | American IPA | 6.5 | Year-Round |
| Illusion Dweller IPA | English IPA | 6.9 | Year-Round |
| Quinn's Golden Ale | Golden or Blonde Ale | 4.8 | Year-Round |
| Annapurna Amber | American Amber Ale / Red Ale | 5.4 | Year-Round |
| Isadore Java Porter | Coffee Porter | 5.4 | Year-Round |
| XXX Pale Ale | American Pale Ale | 5.6 | Year-Round |
| Colorado Kind Ale | American Pale Ale | 6.3 | Year-Round |
| Old School Irish Stout | Irish Dry Stout | 5.6 | Year-Round |
| Blackberry Wheat | Fruit Beer | 5.25 | Year-Round |