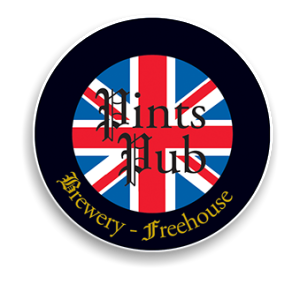 Description
Pint's Pub is a traditional British brew pub that strives to be your "local" regardless of your locale. Here at Pint's, you'll find the charm and personality of the "local", a place that serves as a crossroads for society, where good beer, freshly prepared good food and as importantly, good conversation are on the bill of fare.
Please be aware that despite our corner pub ambiance, Pint's is nationally famed for two world class features. We are brewers of authentic traditional British "cask conditioned" or "live ales" . These hand crafted ales, served from the hand pumps are rarely found in the U.S. Additionally exceptional, in fact unique, is our offering of Single Malt Whisky . We are proud to be the purveyor of the largest selection of single malt whisky this side of Edinburgh, Scotland.
So settle in with a pint, a wee dram or some pub grub, read the London Times (you'll find it by the front door) or chat with a neighbor. You're among friends!
Beers Brewed by Pints Pub Brewery & Freehouse
This list includes beers brewed currently, previously, or seasonally by Pints Pub Brewery & Freehouse. Contact the brewery for current beer availability.
| Name | Style | ABV | Availability |
| --- | --- | --- | --- |
| Black Ajax Stout | Irish Dry Stout, Nitro, Wood / Barrel Aged Beer | 4.0 | Rotating |
| John Bull Brown Ale | Northern English Brown Ale, Wood / Barrel Aged Beer | 5.2 | Year-Round |
| Airedale Pale Ale | English Pale Ale, Wood / Barrel Aged Beer | 5.0 | Rotating |
| Dark Star Ale | Old Ale, Wood / Barrel Aged Beer | 6.4 | Year-Round |
| Lancer IPA | English IPA, Wood / Barrel Aged Beer | 5.8 | Year-Round |
| Idyllweiss Wheat | Hefeweizen / Weiss bier, Wood / Barrel Aged Beer | 4.2 | Year-Round |
| Alchemy ESB | Extra Special / Strong Bitter (ESB), Nitro, Wood / Barrel Aged Beer | 5.5 | Year-Round |
| Gael Force Scottish Ale | Scottish / Irish Ale, Wood / Barrel Aged Beer | 5.0 | Year-Round |
| Phonebox Red | American Amber Ale / Red Ale, Wood / Barrel Aged Beer | 4.4 | Year-Round |
| Bitchcraft Blonde Ale | Golden or Blonde Ale, Nitro, Wood / Barrel Aged Beer | 4.2 | Rotating |
| Czechmate Pilsner | Czech Pilsener, Wood / Barrel Aged Beer | 4.6 | Rotating |