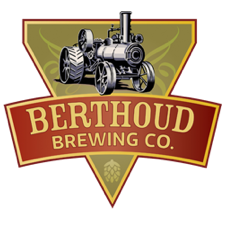 Description
Berthoud Brewing Co. is a locally owned craft brewery in Berthoud, Colorado. Our brewery is dedicated to produce authentic beers that represent the unique experiences of our friends, family, and community.
Taproom:  Berthoud Brewing Co opened a second location in Loveland and moved their brewing operations there.
Beers Brewed by Berthoud Brewing Company
This list includes beers brewed currently, previously, or seasonally by Berthoud Brewing Company. Contact the brewery for current beer availability.
| Name | Style | ABV | Availability |
| --- | --- | --- | --- |
| Rebbekka's Raspberry | Fruit Beer | | Seasonal |
| The Express English IPA | English IPA | | Seasonal |
| Waving Wheat Summer Ale | American Wheat Ale | | Seasonal |
| Crazy Farmer Capsaicin Ale | Chili Beer | | Special Release |
| Firebox Saffron Ale | Spice / Herb / Vegetable Beer | | Special Release |
| Smokestack Nitro Stout | American Stout, Nitro | | Year-Round |
| Train Wreck Porter | American Porter | | Year-Round |
| Scottish Rail Bender Ale | Scottish / Irish Ale | | Year-Round |
| Switch Track Amber Ale® | American Amber Ale / Red Ale | | Year-Round |
| Red Barn Irish Ale® | Irish Red Ale | | Year-Round |
| Fire Ban Golden Ale® | Golden or Blonde Ale | | Year-Round |
| Farmer Aid Session Ale® | English Mild | | Year-Round |