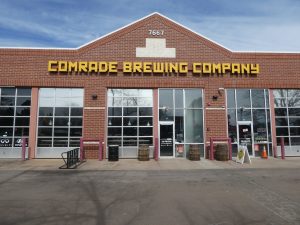 Good Day and Good Beer, Everyone! This Spotlight's focus, and GABF's Small Brewing Company of 2019, is Comrade Brewing Company.
I have visited Comrade a few times before, but this was more than a year ago, and I did not visit during their ultra-successful 2019. Comrade's more popular brews can sometimes be found on tap in the Denver metro area's bars, grills, and restaurants. The brewery is located in a shopping center just a short walk away from the Quebec Denver Dumb Friend's League.
Comrade is one of only three breweries in the Denver area with a fifteen barrel brewhouse built entirely in the USA; the system produces roughly 1,465 barrels annually.
Before winning GABF's Small Brewery of the Year, Comrade received medals for several of their beers (2014, 2015, 2016, 2018, and 2019). They were also named "Best New Brewery" by Westword's Best of Denver in 2015 and 5280 Magazine's Top of the Town in 2015.
When you arrive at Comrade you are greeted by a large red brick building with the yellow block lettering of COMRADE BREWING COMPANY. It's easy to see from the street and there is a large parking lot with ample parking. Walking in the door lands you right at the bar, medals displayed above the taps and a friendly beertender ready to pour. To the right, visitors find a window to the brewhouse; turn to the left, brew in hand, and you enter the main seating area, which features a large hop and wheat mural. This large open area is great for group gatherings.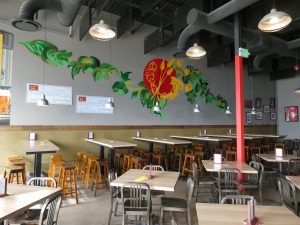 The space is a warm, modern, converted garage space. They kept the garage doors for that excellent natural lighting and for the option of rolling up for some natural air conditioning in the summer months.
Comrade has their "Rank & File" beers: Yellow Card Citra Blonde, REDCON Red Ale, and Superpower IPA are available just about everyday. Each has the added benefit of being gluten reduced.
During my visit I enjoyed the True Level Pilsner and the Yellow Card Citra Blonde. I also tried Compromised Principles New England IPA, which I must note was the clearest NEIPA I've ever had.
If there is any one thing that raises Comrade above and beyond it's the dedication to the style and quality of their beer. Comrade is a great example of style purism. There is no overlap in variety because there is no reason to put the same beer on the menu twice. They have one pilsner, one blonde, one red, one stout. Except when you get into the wide world of IPAs and then yet again, each one is unique. One can see why Comrade earned their medals: the beer quality is fantastic and there is no room for compromise.
Food comes in the form of a rotating schedule of diverse food trucks, as well as from a handful of restaurants within walking distance, some of which deliver.
On either side of the brewery are automotive shops. In keeping with their neighbors, the brewery could have easily gone with a "garage"-esque theme, but decided to capture attention using bright red with gold accents (based on the colors of the Russian flag). Hops and wheat act as a stand-ins for the hammer and sickle.  The branding is eye catching, especially as you take your first step into the space and you're met with that huge red wall lined with tempting taps.
Every beertender I met was ready to pour a new beer, knowledgeable about the brewery, and exuded happiness. Having passionate bar staff always instills undeniable energy into a place and adds value that businesses can't fake.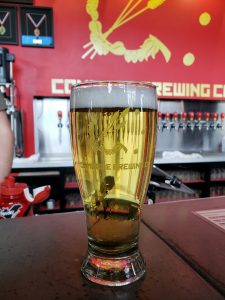 Even on a Sunday, the space felt open and inviting. I am a sucker for good sound insulation, and though the brewery was packed with people, kids, and dogs, I could still hold a conversation at my table.
When I mentioned to beer friends and industry contacts that I'd be digging into the scene at Comrade for my first CBL article, many of them expressed how special Comrade is to them. I remember my first trip fondly, and after coming back for more up-to-date pictures and tastes, it's obvious why so many people call the this particular taproom their second home.
Comrade checks a lot of boxes in the "excellent brewery" categories – for myself and many, many others. Whether you're introducing a newbie to the world of craft beer, or you've got an avid aficionado on your hands,  you can feel confident that Comrade will deliver the goods.