On March 22nd Colorado Springs welcomed the latest brewery in town, Brass Brewing, and I was excited to check out the newest craft beer offerings. After looking at more than a dozen different locations, the owners of Brass Brewing finally selected the space that formerly held Triple S. Brewing. When Triple S. had been located in the building, the space had always been a bit awkward. You enter through front doors and walk down a narrow hallway, allowing room for tables on only one side. You were never quite sure you were in the right place until you entered a second room and spotted more tables, and a curved bar to the left. The space never felt very warm or inviting. Although you still are required to walk through the hallway, Brass has done a wonderful job by moving and renovating the bar so that it's easier to see from the hallway, and has created a much more welcoming and open space, enhanced by the wooden bar, warm lighting, and open wood beam work.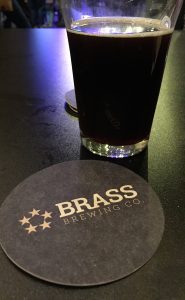 Requiring funding for this move of the bar, owners Wayne "Woody" and Kellee Briggs decided to turn to the support of thirsty craft beer enthusiasts and start a Kickstarter campaign to raise money. Different donation levels earned contributors various rewards from stickers and pint glasses, to mug club memberships and private brew days with the brewers. And clearly Colorado Springs was excited to have a new kid in town, as Brass ultimately raised nearly $17,000 towards relocating and renovating the bar.
The name Brass Brewing comes from both Woody and Kellee's military and law enforcement experience, with Woody boasting 16 years as an Army Officer and 7 years in the Colorado State Patrol. Brass hearkens to military leadership, and the Briggs carry the theme throughout the brewery with pictures of military personnel in their dress uniforms, both past and present, adorning the walls. The beers also boast names such as Lost Lt. Blonde, and Dogger IPA. Additionally, they are donating 1% of their profits back to non-profit organizations that serve veterans.
On opening night the brewery had  a large and diverse crowd. The downtown after-work folks, the craft beer enthusiasts, and a few families with young kids. Brass ensemble U-Turn Brass kept the beer-drinkers entertained with a blend of jazz and fun contemporary music such as Jon Bon Jovi's "Living on a Prayer." The bar was serving up four beers for opening night, with two more to be tapped over the weekend. I was able to sample all four, including the Lost Lt. Blonde, The Oh-Dark-30 (a stout), Red Bag Amber, and Dogger IPA. Usually an IPA fan I found the Dogger to be a bit timid in a time when IPAs seem to have taken on the motto of go big or go home. The Oh Dark 30 was a solid stout, with just the right notes of toasty malts and a slightly chocolate finish. Their coming soon board teased a Staff Duty Porter and Rounds Complete Saison. Original plans called for twelve taps, but may take them some time to get beer brewed up enough to fill them all. There is no food onsite, but Woody eventually hopes to partner with a taco shop a few doors down. For now customers are encouraged to bring food or order in from somewhere nearby.
Brass Brewing is off to a strong start, renovating a once awkward space to create a cozy and inviting space to belly up to the bar, grab a few pints, and share war stories with friends and strangers alike.