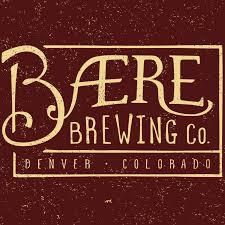 America has a drinking establishment identity problem. Where in other countries the bar, the pub, the brewery is the gathering place of the community, here in America it is not so. Blame it on the suburbs. Blame it on the internet. Blame it on puritanism. Blame it on prohibition. Whatever may be the cause, a call back to the farmhouse-style pubs of Europe is the answer offered up by Denver's Baere Brewing Company.
Baere is the brainchild of owners and brewers Kevin Greer and Ryan Skeels. The two met through Ryan's wife Ryan (not a typo), a high school classmate of Kevin's. Kevin and (boy) Ryan began hanging out and found a mutual interest in homebrewing. The story of how they decided to take their hobby and mold it into their business is slightly different. Kevin's version lays out a long journey of throwing around the idea, testing the waters a bit, and finally deciding on a plan. Ryan's is, shall we say, more dramatic: the two friends were hanging out when Ryan went to the bathroom and read an article about nanobreweries in a brewing magazine. Although the image of him shouting "eureka!" through the bathroom door is both hilarious and charming, he did wait until he exited the restroom before pitching the idea of a brewery to Kevin, who readily agreed. Regardless of the origin story, Kevin and Ryan opened their brewery in a strip mall on 3rd and Broadway in 2014.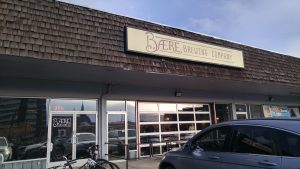 Their location on Broadway was the first place Kevin and Ryan looked at once they decided that their dream was a viable reality. They did explore other locations, including some in RiNo, but the strip mall on Broadway kept calling them back. They liked the space, they liked that it was not as saturated as other locations in Denver, and they liked the more relaxed vibe of the Baker neighborhood. When you enter the brewery, a sign on the door proclaims, "This is a black-belt school!" a reminder of the space's former life as a Jiu-Jitsu studio. The name Baere comes from the old English word for barley – thought to be the root (pun intended) – of the word beer.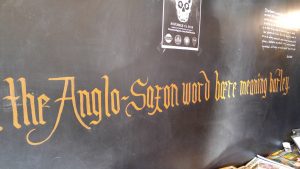 The brewery's art-room-style seating and wood pallet-covered walls adorned with hand-designed music posters (courtesy of Baere label designer John Vogel) are a comforting mix of modern and familiar. The atmosphere is hip without the hipster. Their brewhouse and cellar, once neatly contained in 600 of their 2400 square feet, has begun to spill out into the tasting room with fermenters and many, many wood barrels sitting happily amongst the customers.  When Baere first opened, they chose to restrict their hours instead of restricting their selection. This was mostly due to their small brewing capacity: only 3 BBLs. Luckily, the expansion of fermentation space has allowed for a complementary expansion in both their tap list and hours, so thirsty beer (Baere) drinkers don't have to be without for long.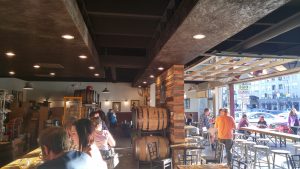 Baere presents a line-up of palate-pleasing beers that align with their modern farmhouse feel: saison/farmhouse ales, sour/barrel-aged beers, and hop-forward beers being the emphasis. Ryan claims that, initially, they only did pale ales and IPAs because of customer demand, but the flavor profiles and care that go into their versions belies his casual attitude. Amongst an overall strong portfolio, some beers that stick out are the Strip Mall Pale Ale, Boom Town Double IPA, Saison, Baere-liner Weisse, and any number of one-off barrel-aged and sour specialties. Unique to the Denver scene, they make their own syrups for the Baere-liner weiss if someone wishes to sweeten up the tart wheat beer. The traditional woodruff syrup is made by Kevin's wife Cheyenne from woodruff grown in the backyards of the owners as well as friends and family around the Denver area.
In one of the most memorable moments of the 2016 Great American Beer Festival (GABF), Baere took home a bronze metal for their Saison, a huge accomplishment considering the 80 entries in the category and the increasing popularity of the style nationwide. Kevin, Cheyenne, Ryan, and Ryan were joined on stage by the Ryans' infant son, Natas, who received the coveted Charlie Papasian fist-bump.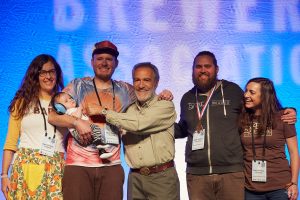 Even as they grow and increase their prestige, Baere continues to keep their tasting room as their first priority with a short list of bottled sours available at select liquor stores in the Denver area. As Kevin says, "a brewery like us can exist because we don't have to package." Another concern for Ryan and Kevin about packaging is that they can't guarantee that what they intended the customer to taste is actually what ends up in their glass with beer sold off-premise. With beer poured at their bar, it was kept cold, served in the correct glassware which is beer clean, and isn't past date or otherwise adulterated. Packaged beer, once it is with a distributor or at a liquor store, may face conditions that would compromise its quality. With such a small brewing capacity and a dedication to only providing top-quality beers, tasting room sales are the only way to survive. But Baere is proving that, even with a small system, survival isn't the only option: you can also thrive. In addition to the new fermenters, Baere continues to foster relationships with local distillery Laws Whiskey House to expand their barrel-aged selection and have recently added Matt Schenck into their brewing team.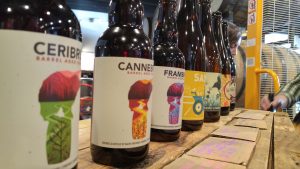 For Baere, beer creation is an evolutionary process. It's a matter of tasting and tweaking. When changing a beer, they compare their ideas to things they've had in the past and they speak with other brewers. Beer brewing is a constant dialogue between the brewers, staff, and customers picking little bits and pieces from everyone's knowledge base. It is one of the aspects of the brewing industry Kevin enjoys the most, and part of what made him want to start a business in it: the breadth of experience from all different ages, lifestyles, and professions. In the end, Kevin says, if you end up with a beer you like, stick with it, regardless of if it was what you intended to make when you started or if it conforms to some sort of style. Style is a guideline, not biblical truth. Kevin posits that so many engineers get into brewing because it is a mixture of science and art. To create great beer, you must strike the right balance between the two. You can certainly taste this enthusiasm for the art and science, for flavor and enjoyment, for history and progress, and rejection of conformity in every beer they offer.
I am always interested in what, besides wanting to make great beer (a somewhat common theme in the craft brewing industry) makes a brewery tick. Makes them unique. Gives them their soul. For Baere, that soul is community. While "community" may sound amorphous and like a marketing buzzword, Baere's focus on community is not just lip-service as they support a variety of local artists and causes. Each month the brewery donates 1% of their total sales to a different community charity with an additional 25% going to that cause on a special charity night during the month. The charities they support are all small, local outfits that have direct effects on the community, rather than larger organizations where the impact may be more abstract. Kevin's favorite part of the charity program is that it introduces them to causes that they might otherwise have been unaware of and encourages active support of those causes by the community at large. Baere also hosts art fairs throughout the year to support local artisans and hosted several parties for The Brewtography Project, a local photographer documenting Colorado craft breweries and beer festivals.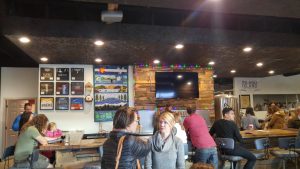 Baere is the kind of place other breweries wish they could be: effortlessly cool and laid back with a respectable list of superb beers fit for almost any palate. While opening a brewery in Denver has moved from a risky proposition due to questions of demand to a sure thing back to a risky proposition due to questions of saturation, Baere has managed to carve out a niche without being gimmicky. If you do have a chance to visit Baere, you are likely to find the bar populated by other professional brewers from near-and-far, beer geeks, and loyal locals enjoying themselves. Baere really is a return to the idea of the brewery being a gathering place, so stop by, grab a tulip glass, and join the community.