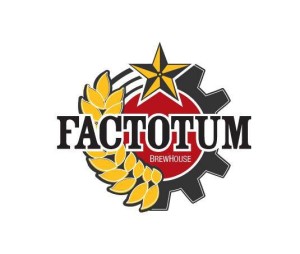 Wal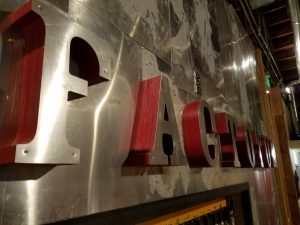 k into Factotum Brewhouse, located at 3845 Lipan Street in Denver's Sunnyside neighborhood, and you immediately feel at home. That feeling is by design, and co-owner Laura Bruns wouldn't have it any other way. The importance of the look and feel of a neighborhood establishment is exactly what Laura had in mind when she, along with her brother, Chris Bruns, opened the brewhouse two years ago this February – they wanted it to feel like home and wanted everyone to feel as though they belonged there. Laura and Chris grew up in Marion, Indiana, a working-class community with a small-town feel and wanted to replicate the feeling of a neighborhood place where people come to hang out with friends and have a beer after a long week of work. The concept of Factotum is a cooperative one. Patrons purchase a brew session at the brewhouse and, once their name comes up in the queue, they work with Chris to craft their recipe to brew on the seven-barrel system housed at Factotum. Whether it is your favorite homebrew recipe updated to a larger-scale creation or a recipe you dreamed up and have been wanting to bring to life, Factotum can help you make it come true. Even if you just want to try your hand at the brewing process but are unsure what you want to create, Factotum can help you bring your creative brewing juices to fruition.  Chris, an avid homebrewer and former teacher, will help you every step of the way – from planning your recipe and ingredient selection, to proper sanitation and cleaning, he is your instructor for the day and will aid you in creating your masterpiece.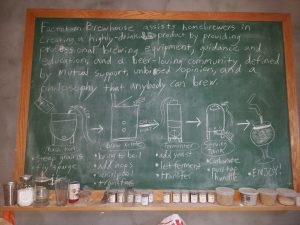 This cooperative conceptualization of having a brewery in which most of the beers are brewed by guest brewers was new to the Denver scene, and running a business such as this was new to Laura and Chris. Though the two have several degrees, neither had experience running a business such as Factotum. To gain the much-needed experience, they took advantage of the Denver Metro Small Business Development Center to learn about starting a small business, and also attended Tom Hennessy's Brewery Immersion Course.  The immersion course teaches, among other aspects of running a brewery, the Frankenbrew-style of brewery set-up – where breweries upcycle old dairy equipment, which proves a much cheaper alternative to the often pricey brewhouse equipment seen at many other breweries. Once the guest brewer's beer – brewed on the Frankenbrew system – has completed, and the beer has fermented and is ready to be served, Factotum offers a "meet the brewer" night where the guest brewer can host a party at the brewery and invite friends and family out to try their beer creation. Even if the guest brewer opts out of having a big to-do about their brew, however, all the beers that are created in the brewhouse by avid homebrewers and amateurs alike are served to beer lovers in the taproom. The large chalkboard in the taproom shows what is on tap, along with the name of the guest brewer, instilling more sense of community.  While you enjoy the guest brewer beers, you can look through the book of biographies containing the stories of all of the people who have brewed at Factotum and learn about why they brewed what they did, why they love beer, where they are from in the community – you might even see some of the people you read about next to you at the bar.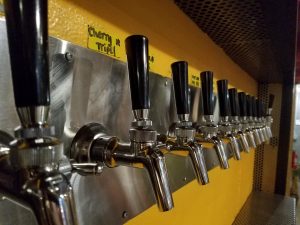 Factotum offers many recurring events, including trivia and run club on Tuesdays and yoga in the tasting room on most Sundays.  And, although they are closed most Mondays, on the last Monday of each month they are open from 4-10 and offer buy-one-get-one beers all night long.  Currently at Factotum, they are having a March Madness where each weekend, two beers will face off against each other. For $5.00 for two 3-ounce pours, people can score the two beers based on appearance, aroma, flavor, and finish and add tasting notes. The ultimate winner of the March Madness competition will have their beer poured at Great American Beer Festival in October 2017 – which would be a dream come true for many homebrewers.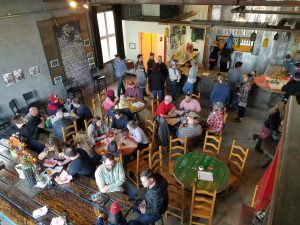 Laura and Chris always felt that a brewery was about much more than the brews served behind the bar.  They felt it is the culture of a brewery that keeps people coming back for more. It is the good vibes you get when you walk in the door and someone remembers you and knows what your usual style of beer is.  Factotum isn't about pretension or egos or winning awards.  Rather, it is about a sense of community and an atmosphere of learning – and about the beer.