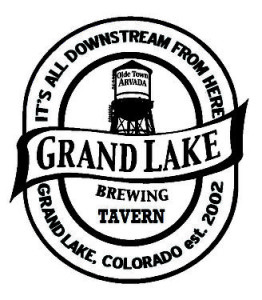 Description
The Grand Lake Brewing Tavern offers twelve beers on tap complimented by delicious pizzas, appetizers and salads. Our beers an also be found in six packs in liquor stores throughout the State of Colorado.
The Grand Lake Brewing Company has been brewing in historic Grand Lake since 2002. Our handcrafted beers are brewed "with altitude" at 8369 feet above sea level. Our beers are made from the pure headwaters of the Colorado River and the finest malted barley and hops from around the globe.
Since the Grand Lake brewing location does not have a taproom the Arvada Tavern is listed here as their main brewery location until the new brewery taproom opens in Greeley.
Grand Lake also has a taproom in Greeley called Grand Lake's 16th St Tavern.
Grand Lake to move brewing operations to Greeley by Greeley Tribune
Beers Brewed by Grand Lake Brewing Tavern
This list includes beers brewed currently, previously, or seasonally by Grand Lake Brewing Tavern. Contact the brewery for current beer availability.
| Name | Style | ABV | Availability |
| --- | --- | --- | --- |
| Grand Lake Brewing: Vienna Lager | Vienna Lager | 4.5 | Rotating |
| Rebel Pale Ale | English Pale Ale | 5 | Year-Round |
| Pumphouse Lager | Munich Helles | 5 | Seasonal |
| Plaid Bastard Strong Scotch Ale | Scotch Ale / Wee Heavy | 8 | Year-Round |
| Shadow Mountain Oatmeal Stout | Oatmeal Stout | 6 | Year-Round |
| Stumpjumper India Pale Ale | American IPA | 7 | Year-Round |
| Rocky Mountain Red Ale | American Amber Ale / Red Ale | 5 | Year-Round |
| Wooly Booger Nut Brown Ale | English Brown Ale | 5 | Year-Round |
| Summit Colorado Pale Ale | American Pale Ale | 5 | Year-Round |
| White Cap Wheat | American Wheat Ale | 5 | Year-Round |